60yr Old Alabama Fan
A long time fan from Twitter joined my website as a Platinum member July of last year when I launched my website and decided to enter the Fan Bang Club monthly drawing. Well he finally won in December and was so excited when I contacted him. He flew from Alabama to CUM see me. I set up the GoPros before he got there. He had not gotten the proper tests that I asked him to get so we ended using condoms but it was still a great time. He left with a big smile on his face. I took his pants off right away and started sucking his cock but I had to slow down because I could tell that he was so excited and he can bust his load any minute. So we decided to do some doggie action for awhile to change it up. After a couple of minute of pounding my tight pussy from the back he decided he wanted my big ole titties in his face while I was riding his cock. The funny thing about that in the video is that he was frustrated that he came too quick lol...While I was riding his cock, you can faintly hear him say "Oh my god, I'm fixing to cum, I'm fixing to cum!". When I realized what he was saying, I quickly jumped off his cock to catch his juicy load in my mouth. I got most of it but some spilled on his stomach which I happily licked and cleaned off. I showed him how much of a load he dumped in my mouth before I swallowed it all. Can't let anything go to waste!! So yummy...He was also super nice and I had fun! I'm sure this older guy had a blast with this hot young piece of ass!! lol

A long time fan from Twitter joined my website as a Platinum member July of last year when I launched my website and decided to enter the Fan Bang Club monthly drawing. Well he finally won in December and was so excited when I contacted him. He flew from Alabama to CUM see me. I set up the GoPros before he got there. He had not gotten the proper tests that I asked him to get so we ended using condoms but it was still a great time. He left with a big smile on his face. I took his pants off right away and started sucking his cock but I had to slow down because I could tell that he was so excited and he can bust his load any minute. So we decided to do some doggie action for awhile to change it up. After a couple of minute of pounding my tight pussy from the back he decided he wanted my big ole titties in his face while I was riding his cock. The funny thing about that in the video is that he was frustrated that he came too quick lol...While I was riding his cock, you can faintly hear him say "Oh my god, I'm fixing to cum, I'm fixing to cum!". When I realized what he was saying, I quickly jumped off his cock to catch his juicy load in my mouth. I got most of it but some spilled on his stomach which I happily licked and cleaned off. I showed him how much of a load he dumped in my mouth before I swallowed it all. Can't let anything go to waste!! So yummy...He was also super nice and I had fun! I'm sure this older guy had a blast with this hot young piece of ass!! lol

---
60yr Old Alabama Fan
---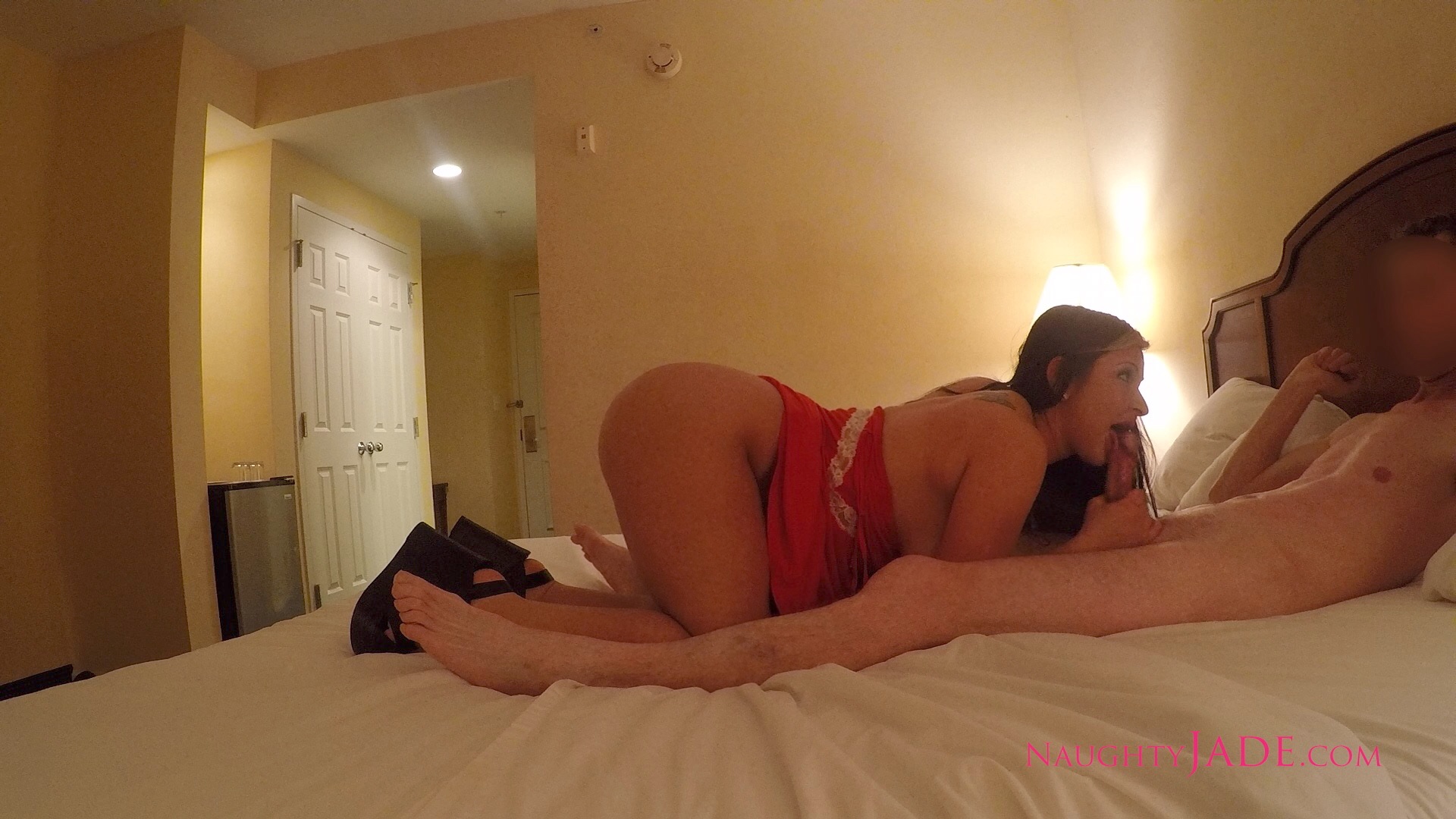 A long time fan from Twitter joined my website as a Platinum member July of last year when I launched my website and decided to enter the Fan Bang Club monthly drawing. Well he finally won in December and was so excited when I contacted him. He flew from Alabama to CUM see me. I set up the GoPros before he got there. He had not gotten the proper tests that I asked him to get so we ended using condoms but it was still a great time. He left with a big smile on his face. I took his pants off right away and started sucking his cock but I had to slow down because I could tell that he was so excited and he can bust his load any minute. So we decided to do some doggie action for awhile to change it up. After a couple of minute of pounding my tight pussy from the back he decided he wanted my big ole titties in his face while I was riding his cock. The funny thing about that in the video is that he was frustrated that he came too quick lol...While I was riding his cock, you can faintly hear him say "Oh my god, I'm fixing to cum, I'm fixing to cum!". When I realized what he was saying, I quickly jumped off his cock to catch his juicy load in my mouth. I got most of it but some spilled on his stomach which I happily licked and cleaned off. I showed him how much of a load he dumped in my mouth before I swallowed it all. Can't let anything go to waste!! So yummy...He was also super nice and I had fun! I'm sure this older guy had a blast with this hot young piece of ass!! lol
Choose Your Membership  Buy This Video
(Duration: 11 mins 23 secs) $15.00 for Pay Per Video
Average rating:
5 reviews
Mar 5, 2018
Truly Awesome! Roll Tide!
Feb 26, 2018
What a lucky guy to have you! He held out pretty good. Watching you ride him at the end was so hot. Love the way you say baby when your really into it. Sends me right over the edge!!
Feb 25, 2018
You will always get 5 stars from me because you're just that HOT!!! As for this video, it's it's a 1 nutter for me. You've done me good and I know, for a FACT!!!, that you've gotten HOTTER!!! Keep 'em cummin!😉😘
Feb 23, 2018
The sexy vixen does it again -hot sex! I love how at the very beginning when she starts sucking him he is sitting there with this arms across the pillows like a relaxed king whose servant is taking care of him haha. But honestly that is exactly how Jade makes you feel - like a King! He then gives her a thorough pounding in doggie and the sneak attack orgasm which is so hard to hold back when Jade's around. I hope I'm in shape like this guy at 60 and still pounding away at young hotties! Oh and being the cum slut she is it's always nice seeing Jade make sure it's all cleaned up.
Feb 22, 2018
OMG, I think I'm in love with Jade. I love the way her perfect ass jiggles when getting hit from the back and when she was bouncing when riding. I need that ass in my life!!!!