Fan BJ - South Beach
II was hanging out in South Beach, Miami with some of my girlfriends and I was online when a fan sent me a private message on Twitter asking if I can meet him in his private suite that he was staying at. His fantasy was to get a BJ out on the balcony while watching the waves crash. I thought that would be so hot to film it so I grabbed my camera and head out there. When I arrived he was already waiting for me with a big hard on and took me straight to the balcony. We set up the camera on a tripod and I started to give him the best BJ he's ever gotten in his life. I shot it on an old GoPro camera but the footage still came out awesome. He shot a big load on my face and in my mouth while I was sucking him off...So HOT! ...and Yummy!! LOL
---
I was hanging out in South Beach, Miami with some of my girlfriends and I was online when a fan sent me a private message on Twitter asking if I can meet him in his private suite that he was staying at. His fantasy was to get a BJ out on the balcony while watching the waves crash. I thought that would be so hot to film it so I grabbed my camera and head out there. When I arrived he was already waiting for me with a big hard on and took me straight to the balcony. We set up the camera on a tripod and I started to give him the best BJ he's ever gotten in his life. I shot it on an old GoPro camera but the footage still came out awesome. He shot a big load on my face and in my mouth while I was sucking him off...So HOT! ...and Yummy!! LOL
---
Fan BJ - South Beach
---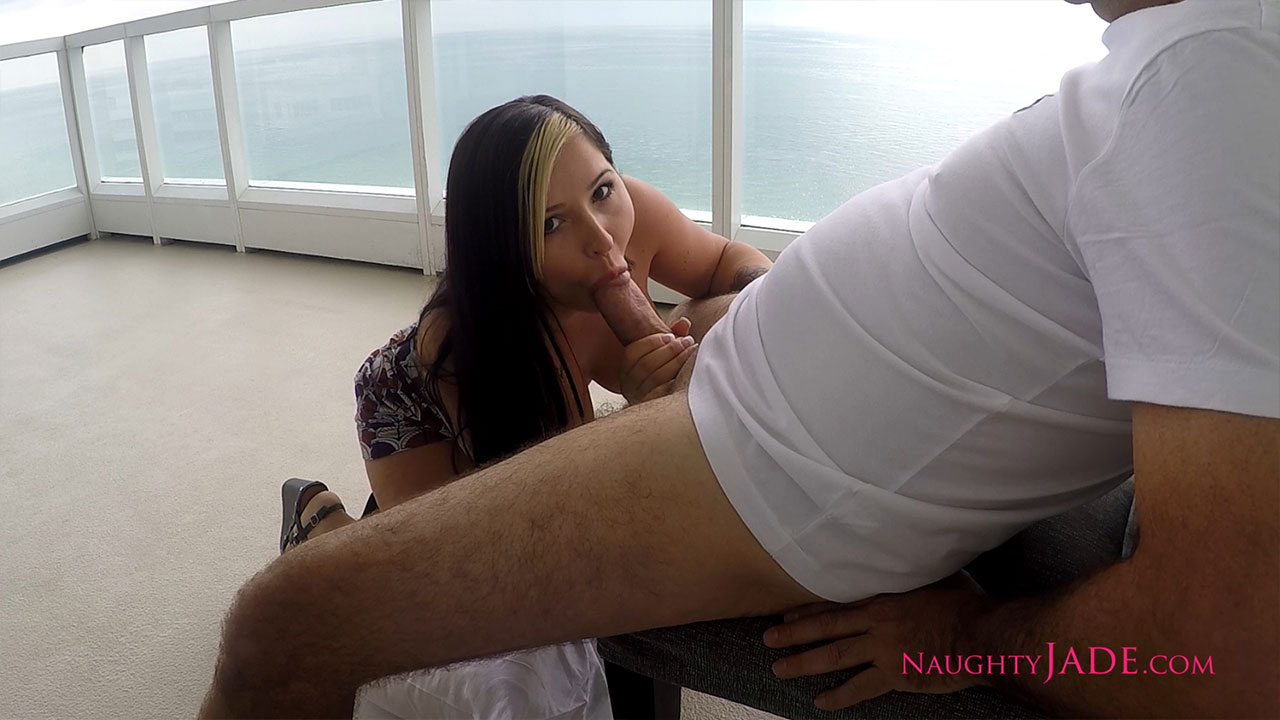 I was hanging out in South Beach, Miami with some of my girlfriends and I was online when a fan sent me a private message on Twitter asking if I can meet him in his private suite that he was staying at. His fantasy was to get a BJ out on the balcony while watching the waves crash. I thought that would be so hot to film it so I grabbed my camera and head out there. When I arrived he was already waiting for me with a big hard on and took me straight to the balcony. We set up the camera on a tripod and I started to give him the best BJ he's ever gotten in his life. I shot it on an old GoPro camera but the footage still came out awesome. He shot a big load on my face and in my mouth while I was sucking him off...So HOT! ...and Yummy!! LOL
Choose Your Membership  Buy This Video
(Duration: 6 mins 36 secs)  $8.00 for Pay Per Video
Average rating:
2 reviews
May 6, 2020
Lol Jade all I have is time thanks to Covid. But you already knew that. I had a feeling you were gonna respond to this one. I'm on a reviewing mission. But soon I will be on a Jade mission. My start my Journey to Jade Snapchat.
May 6, 2020
Ladies and gentlemen,

Here we are again with a classic pro working that cock and taking it all. Jade just loves to put in that work to get that Endgame result. And what does make? It makes for a great video. Starts off with a beautiful view. I mean the best view in Florida and possibly the World. Oh and we get a view of Miami too. The camera is to the side. Good position. The guy is sitting like a king getting his cock sucked by a fuck goddess. She looks at the camera while sucking him off (just teasing us with those eyes). She puts her tits on his cock and fucks them for him. At 4:55 I lost my load. She was breathing heavy and jerking that cock. She was sticking her tongue out and asking for it. I love that. At 5:51 he shot his load so hard and fast that it ricocheted off her face and landed somewhere in Orlando. She caught the rest and she ate it. She is something else guys. It never gets old. Jade.... Stay thirsty my friend.
haha Thanks for all the reviews...you must have alot of jerking time on your hands lmao Jade xoxo